Best Ways to Attract Passive Candidates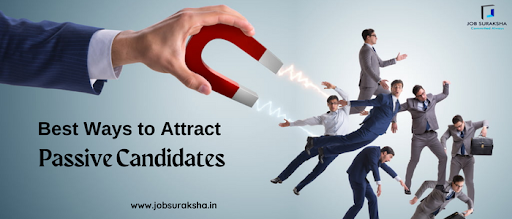 Do you need help finding qualified candidates in your industry through your usual recruiting methods? If so, it's time to broaden your recruiting strategy. Waiting for Job Suraksha to arrive at your doorstep will take much work. Instead, you should be proactive and start sourcing passive candidates.
A passive candidate is one who an employer is considering for a specific position but is not actively seeking a new one. Most passive candidates are satisfied with their current position but may be open to changing jobs when the right opportunity arises. At 70% of the working population, inactive candidates often have industry experience and sought-after skills, making them interesting to recruit, especially in tech sectors and tight markets facing labour shortages. They may not be sending out resumes, but thankfully there are several ways to reach them. And you'll have the bonus of less competition! It's about knowing where to find them and how to talk to them.
A strong employer brand
When trying to attract passive candidates, your reputation is essential. Remember that they do not require your job opportunity, but you do require their skills. Therefore, aim to make a good first impression, not just a good one. What are your strengths as an employer? What sets you apart? Which elements does your organization specialize in and want to be known for?
Market your company after you've decided which elements to emphasize. Market it well enough that even people not looking for work know your strengths. Displaying your employer brand online and offline will improve your ability to attract passive candidates and expand your candidate pool. Supporting local causes, participating in events, or discussing topics relevant to your target audience are all examples of long-term employer branding efforts.
Direct messaging
Most people probably think of LinkedIn when reading about direct messaging to recruiters. LinkedIn is the world's largest professional network and has proven to be a strong recruiting tool. However, candidates' inboxes may already be flooded with vacancies. Inactive candidates who receive tons of messages and job offers on LinkedIn may not open your offer, let alone respond. Reaching out to inactive candidates on platforms less popular among recruiters (such as WhatsApp, Instagram or Telegram, depending on your target audience) can make you stand out.
Paid social advertising
In this day and age, paid advertising is vital to recruiting. Research and testing can tell you which of your target audience most commonly uses social media platforms. Run recruitment drive there. You can create compelling ads to showcase your employee value proposition, your company culture and your current job opportunities. The incredibly accurate and advanced targeting options with paid ads allow you to reach a wider audience and easily redirect inactive candidates to your career page.
Partnering with experts
Even if your career page is great and UX-optimized, most passive candidates won't land on it. You want your job openings to appear on various websites. To help you gain more visibility and reach elusive audiences, you can team up with a strong partner and utilize their existing networks. A specialized staffing firm or job platform can assist you in better targeting your search and attracting passive candidates. Job platforms like Job Suraksha have extensive databases and high volumes of monthly clicks. They have industry knowledge, skills and experience, as well as the willingness, time and ability to share it with you.
Conclusion
There is no shortcut to engaging inactive candidates. It is an ongoing process, a long-term investment that demands regular attention, time and effort. It's about having the right tools, getting your name out there, establishing a presence as a great employer, using the right channels, and putting your energy to good use. And since passive candidates are an asset to your company's long-term well-being, it's worthwhile to incorporate these tips mentioned above into your recruiting strategy.